The Honorable Lynne S. Callahan
Judge Lynne Callahan earned her Bachelor of Arts degree from the University of Akron, where she was named "Outstanding Senior Woman" in 1979. She earned her Juris Doctorate degree from The University of Akron School of Law in 1984 and was thereafter admitted to the Ohio Bar. After law school, Judge Callahan chose a unique career path and joined the Akron Police Department. In 1989, she joined the Summit County Prosecutor's Office as an Assistant Prosecuting Attorney. Judge Callahan also worked as an attorney in the private sector.
Judge Callahan was appointed to the Akron Municipal Court on May 1, 1997, elected in November 1997 and re-elected in November 2003. While in the Akron Municipal Court, she was twice elected by her fellow judges to serve as Presiding Judge.
Judge Callahan was instrumental in the creation of the Akron Municipal Court's Family Violence Court and presided over the Court from April 1998 until she began her service on the Common Pleas Court in 2009. During Judge Callahan's tenure, the Family Violence Court received the Ohio Department of Rehabilitation and Correction Director's Award for Excellence in Community Justice and the American Corrections Association National Exemplary Offender Award.
Judge Callahan was elected to the Summit County Court of Common Pleas in 2008 re-elected in 2014. She was named by Chief Justice Thomas Moyer to serve on the Ohio Supreme Court's Advisory Committee on Domestic Violence and renamed to the Committee by Chief Justice Maureen O'Connor Judge Callahan also participated in the Summit County Common Pleas Court Re-Entry Court Program and was a member of the Summit County Re-Entry Network Steering Committee.
Judge Callahan served on the Common Pleas Court until 2017, when she began serving as a judge of the Ninth District Court of Appeals following her election the previous November. Judge Callahan sat as a visiting judge with the Ohio Supreme Court on February 27, 2018 and March 11, 2020.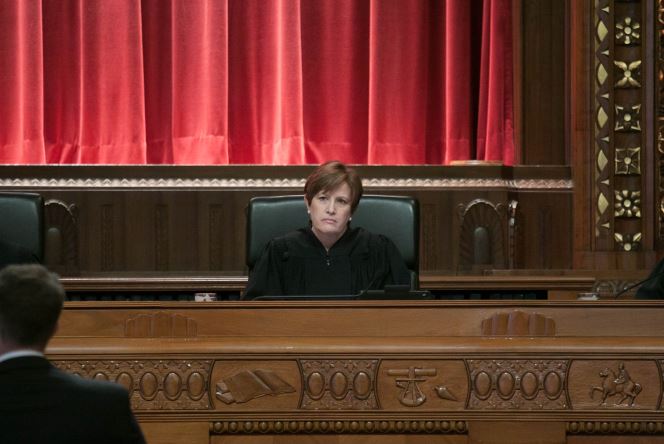 Judge Callahan sitting with the Ohio Supreme Court in 2018.
Judge Callahan has been active in the community and has been the recipient of several awards recognizing her community involvement, including the Urban Light Award and the Community Health Center Corrine Rho Award She was a long-standing member of the County of Summit Criminal Justice Advisory Board and served on the Board of Trustees of the Community Health Center Foundation. Judge Callahan has taught at The University of Akron and at the Supreme Court of Ohio Judicial College. She has enjoyed coaching middle school and high school mock trial teams for more than a decade. Judge Callahan is a member of the Akron, Lorain County, Medina County, Wayne County, and Ohio State Bar Associations.
Judge Callahan is a lifelong resident of Summit County. She and her husband Michael have three children and four grandsons.
Click here for a high-resolution picture suitable for printing.