The Honorable Donna J. Carr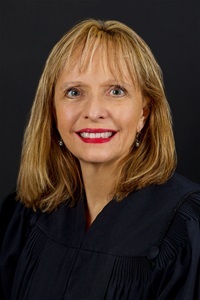 Judge Donna J. Carr graduated from Kent State University and received her Juris Doctor degree from The University of Akron School of Law. Upon graduation from law school, Judge Carr served as an Assistant Prosecutor for Summit County from 1984-1993 and Chief Counsel-Civil Division from 1993-1995.

In 1995, Judge Carr was appointed to the Akron Municipal Court and elected to the same position in November 1995. She served on the Municipal Court until her appointment to the Ninth District Court of Appeals in July 1998. Judge Carr was elected to the Court of Appeals in November 1998 and reelected in 2004, 2010, and 2016. She has also served as a visiting judge with the Ohio Supreme Court on several occasions, including January 29, 2020, April 4, 2017, January 9, 2008, November 28, 2006, September 14, 2004, March 12, 2003, March 11, 2003, November 13, 2001, and December 1, 1999.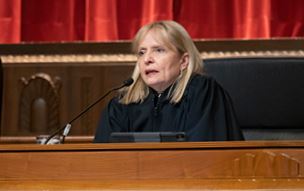 Judge Carr sitting with the Ohio Supreme Court in 2020.
Judge Carr was appointed by the Supreme Court of Ohio to serve on the Interpreter Services Subcommittee of the Supreme Court's Racial Fairness Implementation Task Force. She was then appointed to the Supreme Court Advisory Committee on Interpreter Services where she was involved in a variety of projects, including the drafting of the Interpreter Bench Book and Bench Card for Judges. During her time on this committee, she has served as Chair of the Advisory Committee and as a member of the Superintendence Rule 88 Public Comment Workgroup. Judge Carr has spoken at numerous CLE presentations on topics related to this committee work.
Judge Carr was elected by the Ohio Courts of Appeals Judges Association to serve as Secretary/Treasurer of the Ohio Courts of Appeals Judges Association for 2015, Chief Judge-Elect for 2016, and Chief Judge for 2017. The Ohio Courts of Appeals Judges Association consists of all 69 appeals court judges who serve on Ohio's 12 Appellate Districts.
She is a member of the Montrose Zion United Methodist Church and is active in numerous church and community activities. She is a member of the Akron, Lorain County, Medina County, Wayne County, and Ohio State Bar Associations. Judge Carr has three sons.
Click here for a high-resolution picture suitable for printing.