The Honorable Jill Flagg Lanzinger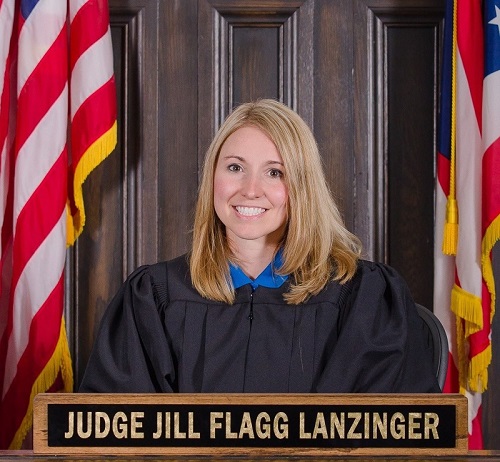 Judge Jill Flagg Lanzinger is a judge at the Ninth District Court of Appeals. Before serving at the Ninth District Court of Appeals, Judge Lanzinger served as a trial judge for over seven years. She served as judge of the Barberton Municipal Court and as judge of the Summit County Common Pleas Court. Judge Lanzinger founded and presided over the Barberton Municipal Drug Court. Additionally, Judge Jill was a magistrate at the Akron Municipal Court.
Judge Jill Flagg Lanzinger graduated from Heidelberg College cum laude with a Bachelor of Arts in Psychology and Political Science. In 2004, Judge Lanzinger received her Law Degree cum laude from the University of Akron School of Law. Judge Lanzinger was an associate editor of the Law Review at University of Akron School of Law, an honor reserved for students whose grades fall in the top 15 percent of their law school class or students who have demonstrated excellent writing skills. Judge Lanzinger served as a judicial law clerk to the Honorable Judge Alison McCarty in the Akron Municipal Court. Judge Lanzinger also worked at the Stark County Prosecutorís Office, handling traffic and criminal matters involving juvenile offenders.
Judge Lanzinger has been a strong advocate for abused children. She served as Guardian ad Litem in the Summit County Juvenile Court. Judge Lanzinger is a published writer on the subject of childhood sexual abuse litigation. As an advocate, Judge Lanzinger won an appeal at Ohio Supreme Court that enhanced the rights of childhood sexual abuse victims. As a private practitioner, Judge Lanzinger acted as counsel in numerous jury and bench trials at both the federal and state level. Her practice included research, writing, and appellate work, arguing before the Ninth District, Tenth District, and Eleventh District Courts of Appeals and the Ohio Supreme Court. Judge Lanzinger was a member of the Ohio Bar, Illinois Bar and was admitted to practice before the Federal Courts of the Northern District of Ohio, Northern District of Illinois, and Southern District of Ohio. Judge Lanzinger is a graduate of the Trial Lawyers College and taught at the Trial Lawyers College as a faculty member.
Judge Flagg Lanzinger is married to her husband, Dr. William Lanzinger, M.D. They have been married for over 21 years and reside in Green/Portage Lakes. Judge Lanzinger is an avid runner who has completed four full marathons and at least a dozen half marathons. Judge Lanzinger is active in her community, serving on the board of two charitable organizations, the Portage Lakes Advisory Council and the Polar Bear Club (Polar Bear Jump). Additionally, Judge Lanzinger is a member of the Portage Lakes Kiwanis, the Magic City Kiwanis, the Akron Rotary, and the Green Opiate Task Force. Judge Lanzinger is a member Akron Bar Association, Lorain County Bar Association, Medina County Bar Association, Wayne County Bar Association, and Ohio State Bar Association. She is also an Akron Bar Foundation Fellow.