The Honorable Betty S. Sutton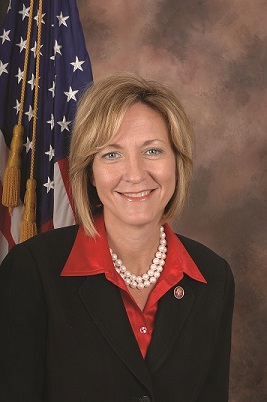 Judge Betty Sutton graduated from Kent State University and received her Juris Doctor degree from The University of Akron School of Law.
As an attorney for nearly 30 years, Judge Sutton brings a breadth of experience with her to the Ninth District Bench. She has worked in private practice representing people and workers primarily in civil litigation, including labor and employment law matters.
Judge Sutton also brings significant prior public service experience to the Court. While still in law school, Judge Sutton was elected to serve as an at-large Councilwoman for the City of Barberton. She then served two years on the Summit County Council, before being elected in 1992 to the Ohio House of Representatives, where she served as the Vice Chair of the Judiciary and Criminal Justice Committee and as a member of the Civil Justice Committee. Judge Sutton was, at the time of her election, the youngest woman ever elected to serve in the Ohio House. She served in the Ohio House for eight years, leaving in 2000, when term limits prevented her from running again.
Judge Sutton returned to private practice, where she worked with the law firm of Faulkner, Muskovitz & Phillips, LLP until 2006, when she won election to the United States House of Representatives in Ohio's 13th Congressional District. Judge Sutton served in the U.S. House until 2013, during which time she served on a number of committees including the Judiciary and Rules Committees. Judge Sutton's election to Congress made her the only Ohioan to ever serve as a legislator at the city, county, state, and federal levels of government.
In 2013, Judge Sutton was appointed by former President Barack Obama to serve as the Administrator of the Saint Lawrence Seaway Development Corporation, where she oversaw the safe, efficient, and reliable U.S. operations of this international waterway.
In 2020, prior to joining the Court of Appeals on February 9, 2021, Judge Sutton worked on toxic tort claims with Bevan & Associates Co. LPA Inc.
Judge Sutton sat as a visiting judge with the Ohio Supreme Court on April 26, 2022.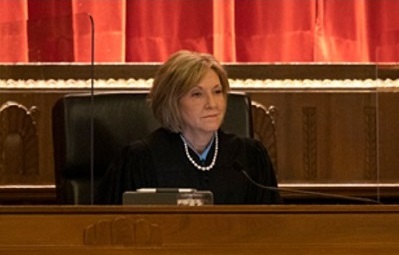 Judge Sutton sitting with the Ohio Supreme Court in 2022.
Judge Sutton is a member of the Akron, Lorain County, Medina County, Wayne County, and Ohio State Bar Associations.
Judge Sutton is married and has two step-children, six grandchildren, and a rescue dog, named Cleo.
Click here for a high-resolution picture suitable for printing.