About the Court
The Courts of Appeals are established by Section 1, Article IV of the Ohio Constitution, and their jurisdiction is outlined in Section 3, Article IV. As intermediate level appellate courts, their primary function is to hear appeals from the common pleas, municipal, and county courts. Each case is heard and decided by a panel of three judges.
The state is divided into twelve appellate districts by Section 3, Article IV, of the Ohio Constitution and section 2501.01 of the Revised Code. Each district is served by a court of appeals that sits in each of the counties in that district. The number of judges in each district varies from four to twelve. In addition to appellate jurisdiction, the courts of appeals have original jurisdiction, as does the Ohio Supreme Court, to hear applications for writs of habeas corpus, mandamus, procedendo, prohibition, and quo warranto.
Court of appeals judges are elected in even-numbered years to six-year terms on a nonpartisan ballot. Appellate judges must be attorneys with at least six years of experience in the practice of law. The Governor makes appointments to fill vacancies in courts of appeals that occur between elections.
The Appellate Districts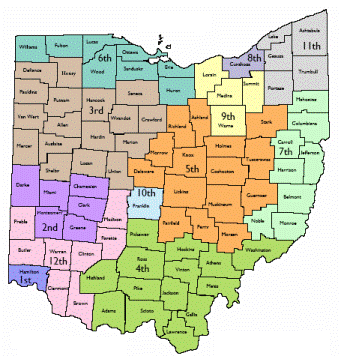 The number of judges in each district court of appeals depends on a variety of factors, including the district's population and the court's caseload. While each district has at least four judges, the Ninth District Court of Appeals has five. In order of seniority, they are: Donna Carr, Jennifer Hensal, Julie Schafer, Thomas Teodosio, and Lynne Callahan.
The Ninth District Court of Appeals has approximately 1.1 million residents and handles approximately 800-900 new cases each year. The Court of Appeals' decisions may be appealed to the Ohio Supreme Court.
Past Judges of the Ninth District
The Ninth District Court of Appeals has had many outstanding judges serve it over the years. To view pictures and dates of service of prior judges, please click here.